For specific purposes, some battery designs are made in special shapes and combinations of battery cells. Batteries like rack mount lithium batteries are one of them. These batteries are manufactured in a special way and function in a special way as well. In this article, we will discuss some of the uses for which rack mount batteries can be used.
What is a rack mount battery and how does it work
Rack mount batteries are specially designed batteries made to fit in rack servers. These batteries are manufactured in special configurations that make them flatter than most common battery types, usually with a height of 2 inches or less. Rack mount batteries are small, flat and easy to fit into small racks that vary according to their size.
Rack mount lithium batteries are widely used, as they serve as UPS devices helping to protect electronics from unstable voltages and blackouts. They are often installed in a cabinet that can handle more than a single battery pack. Furthermore, the rack is designed with several tiers that hold each battery pack, linked to its suitable source. These batteries are widespread amongst data centers and computer rooms, using multiple battery packs to operate multiple computers simultaneously.
The role of the main control box of the rack mount battery
It's been determined that battery packs installed in racks must be controlled with a main control box at the top which is connected to the rear of each battery. This is applicable to rack mount lithium batterys, as well as batteries used for UPS systems – the control box can initiate on/off functions and charge/rest states.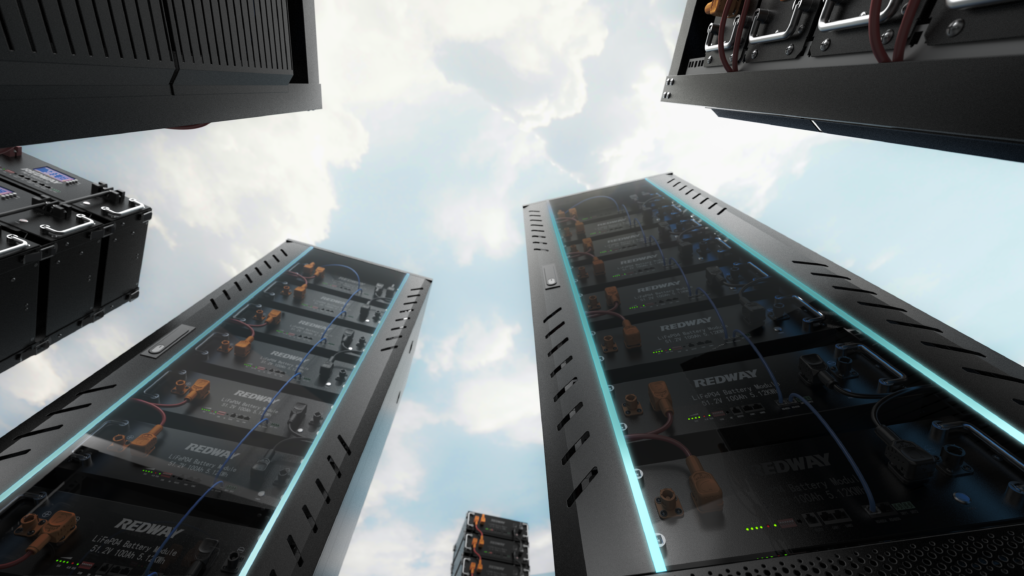 Application of rack mount lithium battery
Rack mount lithium batteries are utilised for a variety of purposes. Commonly used in data centres and computer labs, these batteries are placed in metal racks with several levels that are specially designed to accommodate them. The rack mount lithium battery is then connected using wire cables to the corresponding computer system it needs to power. Additionally, this type of battery can serve as UPS lithium battery backups for computers and other devices, as well as home batteries for storing energy from solar panels and wind-power systems.
Advantages pf A LiFePo4 rack battery
Despite the fact that a LiFePO4 rack battery is one of the best and most efficient battery types on the market, there are some obvious advantages to using a LiFePO4 rack battery specifically.
● Safety:
The LiFePO4 rack battery offers exceptional safety for rack mount applications. With built-in BMS technology, these batteries self-regulate their temperature, ensuring stability and preventing any potential issues. Their high stability allows for flexible positioning without concerns of leakage or spills, making them a reliable choice.
● Long lifespan:
Every LiFePO4 rack battery enjoys a relatively long lifespan, lasting several years. Most lithium batteries can endure up to 10 years of normal usage conditions, making them a durable choice for rack placement. With such longevity, these batteries eliminate the need for frequent replacements, resulting in economic and cost-effective advantages compared to other battery types.
● Effective:
Every rack mount lithium battery is an exceptionally efficient type of lithium battery, well-suited for various uses and applications. LiFePO4 batteries, in particular, boast an impressive State of Health (SOH) rating, with almost 100% charging efficiency, far surpassing the 80% charge efficiency of lead-acid batteries. Moreover, LiFePO4 batteries have minimal energy loss during use, thanks to their slow discharge rate, enabling them to conserve energy even during idle periods.
● Good performance:
All rack mount lithium batteries deliver exceptional performance, making them the optimal choice for a steady supply and reliable discharge rate, allowing you to estimate their duration of operation accurately. These LiFePO4 batteries excel at handling high current demands and maintain their performance throughout their active life.
● Zero performance:
All rack mount lithium batteries used in a rack require no maintenance. These LiFePO4 batteries are self-sufficient, needing only regular charging and proper temperature maintenance to perform flawlessly for the entire active lifespan.
● Environmentally friendly:
A rack mount lithium battery is a sealed battery, ensuring its safe indoor use by not releasing any toxic fumes that could harm users or the environment.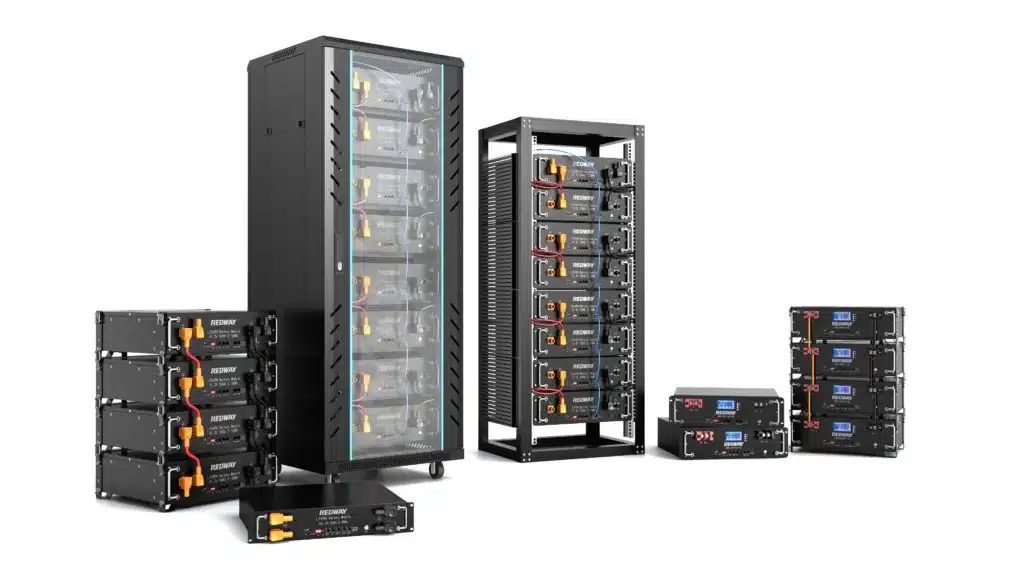 Rack mount lead acid battery vs rack mount lithium battery
Other rack mount battery types, including rack mount lead acid batteries, exist as well. There is a stark difference between other battery types, some of which are highlighted below.
● Safety:
Regarding safety, numerous tests have confirmed that a rack mount lithium battery is a more stable and eco-friendly choice. In contrast, a rack mount lead-acid battery can unintentionally release toxic fumes that pose risks to both users and the environment.
● Performance:
There is a clear difference in terms of performance where a rack mount lithium battery has been proven to have a higher energy density and supply a more stable current. On the other hand, while a rack mount lead-acid battery may have a relatively high energy density as well, its current supply isn't constant and would reduce as the battery loses power.
● Stability:
When installing a rack mount battery in a rack server, it is crucial to prioritize stability. In this regard, a rack mount lithium battery proves to be the more stable choice compared to a rack mount lead acid battery, which is less stable due to its liquid acid components.
● Charge and discharge cycle:
The charge and discharge cycle of a rack mount lithium battery is more optimal with charging able to reach 100% and discharge reaching 0% without a considerable effect on the battery. A rack mount lead acid battery on the other hand may only be charged to 80% and discharged to 20% to avoid adverse effects on the battery itself. The cycle life of lithium batteries can be as high as 4000 times, much higher than that of lead-acid batteries.
Specifications of rack mount lithium battery
In particular, rack mount lithium batteries come in different sizes and types. These include 48v 30Ah, 48v 50Ah, 48v 100Ah, 48v 200Ah, and so on. A variety of application scenarios and needs must be matched to the right battery specifications. This particular battery would also include a passive balancing circuit, a pass-through balancing circuit, and an active balancing circuit between modules.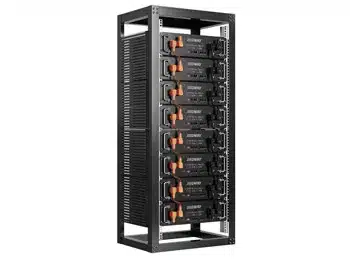 How big should my rack mount battery backup be?
The size of a rack mount battery backup you require is contingent on the applications it needs to serve. Consider the number of gadgets and appliances you expect the battery to support as well as how long that support needs to last. Additionally, factor in your rack's capacity for accommodating the desired model. Above all, look for a LiFePo4 lithium-based rack mount battery, which will offer optimal performance.
What is the best rack mount lithium battery for me?
Choosing the right rack mount lithium battery involves matching the inverter and battery to meet the household's daily energy consumption and requirements. In addition, the rack battery itself should be matched to the inverter's power to prevent overconsumption or undersupply.
FAQs
What does 1U 2U 3U 4U mean
The 1U, 2U, 3U, 4U, 5U, 6U, and 7U figures represent the different sizes of rack mount servers. The "U" indicates unit and the progressive numbers indicate the gradual increase in size. 1U is the smallest at 1.7 inches in height and 19 inches in length, while 7U is the largest at 2.5 inches in height and 25 inches in length.
Is there a high-voltage rack mount lithium battery
There are indeed high voltage rack mount lithium batteries such as this popular high voltage 384V 50Ah UPS lithium ion battery. The high voltage is achieved by connecting multiple rack mount lithium batteries in series. These voltages and capacities can be arbitrarily matched or customized to fit any backup time requirement. You can ask a professional manufacturer of odm lithium ion batteries, and they will make your solution.