Introducing Redway Power Modular Battery series with state of the art modular solutions in terms of Energy and Output Power. RP modular series comes with 6,000 cycle life, built in BMS for each module and cell level monitoring and balancing.


All series can be customized according to customer needs.
PM-LV51100-3U-PRO
Cell Type
LiFePO4 (LFP)
Capacity
100Ah
Nominal Energy
5.12kWh
Nominal Voltage
51.2V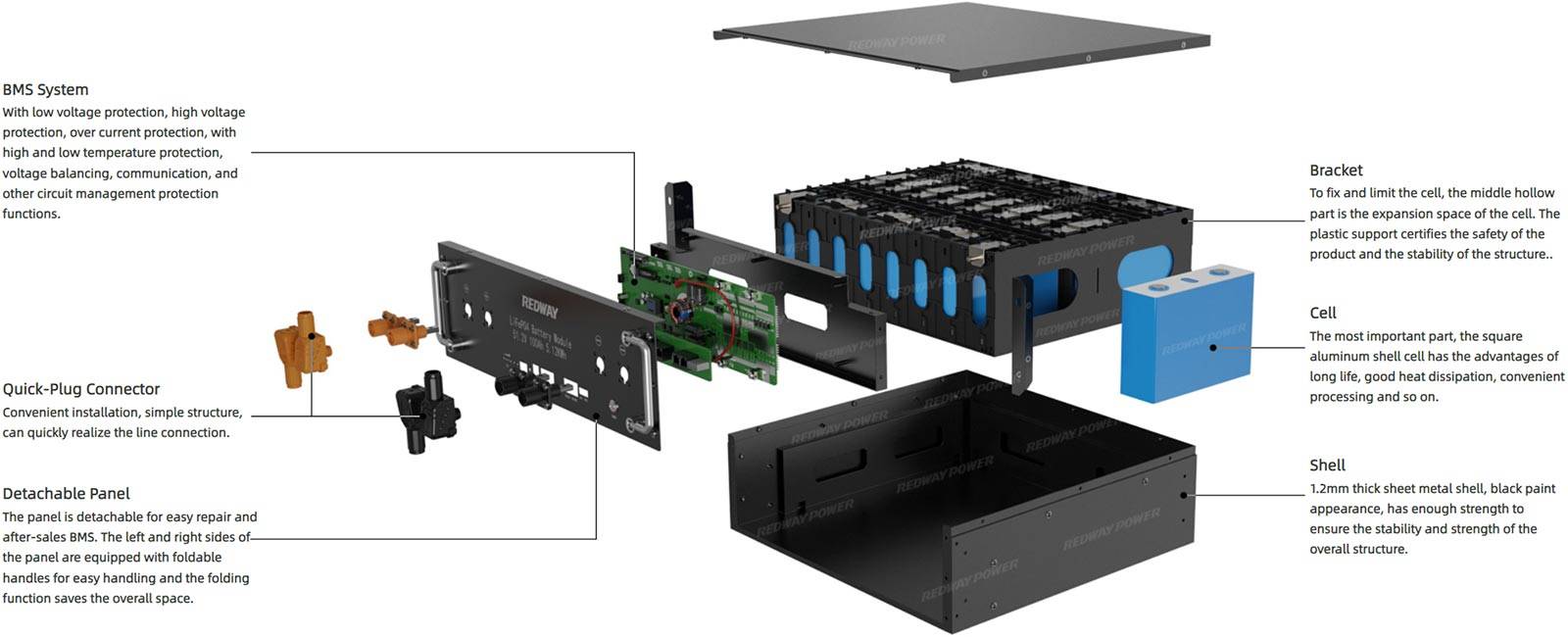 You can customize a lot about your equipment, but you can't customize your battery. That's for us to do, and you can trust that we did it right. Not only are Lithium Iron Phosphate Batteries built smarter, but they're also built to the highest quality standards.
The PM series consists of individual modules that all have an internal Battery Management System (BMS) that acts as a safety net to shut down the battery if it out of parameters. This prevents the battery from overcharging or discharging as well as operating outside of the temperature range.
Intelligent Design
Each module is equipped with an independent intelligent BMS system.
Wide Compatibility
Made from Lithium Iron Phosphate, It is the safest lithium battery on the market. You can use it indoors or outdoors.
Premium Life Cycle
Compared with the traditional module, RP- Battery Module can meet the capacity storage and greatly enhance the battery cycle life.
Various Installation
Flexible configuration, support parallel expansion.
Automative Grade Battery Cell
Using Lithium Iron Phosphate technology, It has a lower calorific value.
Environment Friendly
Redway Lithium Iron Phosphate Battery produces zero emissions or carbon footprint during use, emits no greenhouse gases, and does not damage the environment. It's good for you and the planet.
Homes
Industrial
Commercial
Internet Data Centers